Here you find Word Connect Answers for all levels easy, normal and hard. You can fast find the Word Connect ¤ Answers by letters and the answers are constantly updated.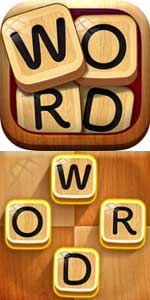 WordConnect is currently one of the most popular word games in the App Stores and currently has over 1000 puzzles. The puzzle from developer "wordpuzzle games" (Zentertain Ltd.) is in different languages available.
Word Connect Answers by letters
Are you ready to find delicious words cookies at your kitchen oven?
Embrace your brain power to discover words.
HOW TO PLAY
• Words can be vertical, horizontal, diagonal and even backwards.
• Simply swipe your finger over a word to select it.
• If you've found a valid word it will remain highlighted and marked on the word list as found.

Also interesting:
Words Crush Themes Answers
Word Saying Answers
Wordful Answers
Notice:
There are two various apps on App Store and both are called "Word Connect" from diverse developers. But they are the same apps! The only different is the available modes. In one of them you can choose between the three difficulty levels easy, normal and hard. Our Answers are working for both app variations.
HOW TO USE ANSWERS TOOL
• Just type the letters you have in a level
• Select number of letters you need
• Click on "Search Answers"
Word Connect Answers Tool
No answers shown?
Please leave a comment.

Word Connect download
You can download Word Connect free for iOS on iTunes store and for Android on Google Play Store.
If you have any questions about Word Connect, feel free to leave a comment at the end of this site.