Words Crush Themes is another greate word puzzle from BitMango who a know for Words Crush and we have the answers for both versions!
In every Stage you have to find themed words! Every puzzle has a specific theme that all the words are related to. To crush words in a level just swipe the letters to solve it!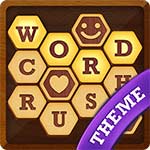 Crush the words in the correct order. If you cannot connect the letters in the right order, try to find a different path by reset the letters of the level. Words can be vertical, horizontal, diagonal and even backwards. So just swipe your finger over the letters to select them. To complete a level in Words Crush Hidden Themes you have to find all words.
Words Crush Themes Answers by Level-Packs and Stages
Ok, let´s start with all the answers for Words Crush Themes in the following overview. Just click on the level to want, to see the right answers. At the bottom of each answers you find a link to get back to this words crush themes overview.
Words Crush Themes Answers Overview
Words Crush Hidden Themes download
You can download words crush hidden themes for free if you have a iphone/ipad on itunes store and if you have a android device on google play store.
Similar to Words Crush Hidden Themes
If you have already solved all level and are looking for similar apps like words crush themes you must check the wonderful apps Wordbrain Themes and Word Academy. Or from same developer ty to solve all Level from Words Crush Hidden Words.